Support Ken Fournier by purchasing the SOCN + Smith & Bradley (Find Your Tribe) Blackfish Watch Gift Set
Ken Fournier, a former SOF/GRS legend, who is now battling multiple cases of different types of Stage 4 cancer. SOCN is donating 20% of what we bring in from the Watch sales to directly support Ken's cause.
This is a special version of our Atlantis Blackfish watch featuring the Find Your Tribe logo and a illuminated bezel. Just like the Warriors that SOCN supports, it is designed and built in the U.S. This all black watch is a combination of tactical watch and dive watch, which is waterproof to 300 meters. Great watches are made for great men.

Gift set includes the special edition (Find Your Tribe) watch in a waterproof dive watch case with a black NATO watch strap along with a unique SOCN coin. Customers who order the metal bracelet will also receive the NATO watch strap in their order.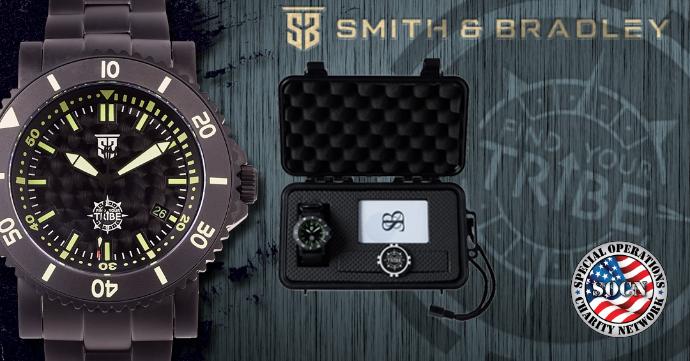 About Ken Fournier
Ken Fournier served this country for nearly three decades, first, as an elite US Special Operations Air Force Pararescueman (PJ), then as a US government contractor, working in hostile and non-permissive environments around the world.
For the last several years Ken has transferred the skills he acquired as a dive and jump certified tactical operator, into a career as a stunt man, and on-set safety/rescue officer.
Unfortunately, on December 8, 2022, Ken received some devastating news when he was advised by an oncologist that the recent pain he has been feeling in his abdomen is a very rare form of cancer, called Lipo Sarcoma. He learned that his cancer is wide-spread, and is in stage 4.
Since Ken is unable to work, he does not have any source of income, and despite having health insurance through the Screen Actors Guild, his medical expenses are already growing well beyond his means, as he seeks medical advice from experts in the field, and searches for available treatment options, which are unfortunately very limited.
SOCN is donating 20% of what we bring in from the Watch sales to directly support Ken's cause.